Skip to end of metadata
Go to start of metadata
Introduction
Schedules determine the start times of Orders, the Workflow and any Variables assigned to Orders.

Start times are based on JS7 - Calendars that specify the days for execution of Orders.
Users specify the Order's start time and optionally cyclic execution in intervals.

Schedules are applied by the JS7 - Daily Plan to create Orders for the given date and time.

Schedules can be manually applied from the Daily Plan view.
Schedules are automatically applied by the JS7 - Daily Plan Service.
Feature Video
This video explains the handling of schedules:
Manage Schedules
Schedules are available from the Configuration -> Inventory view.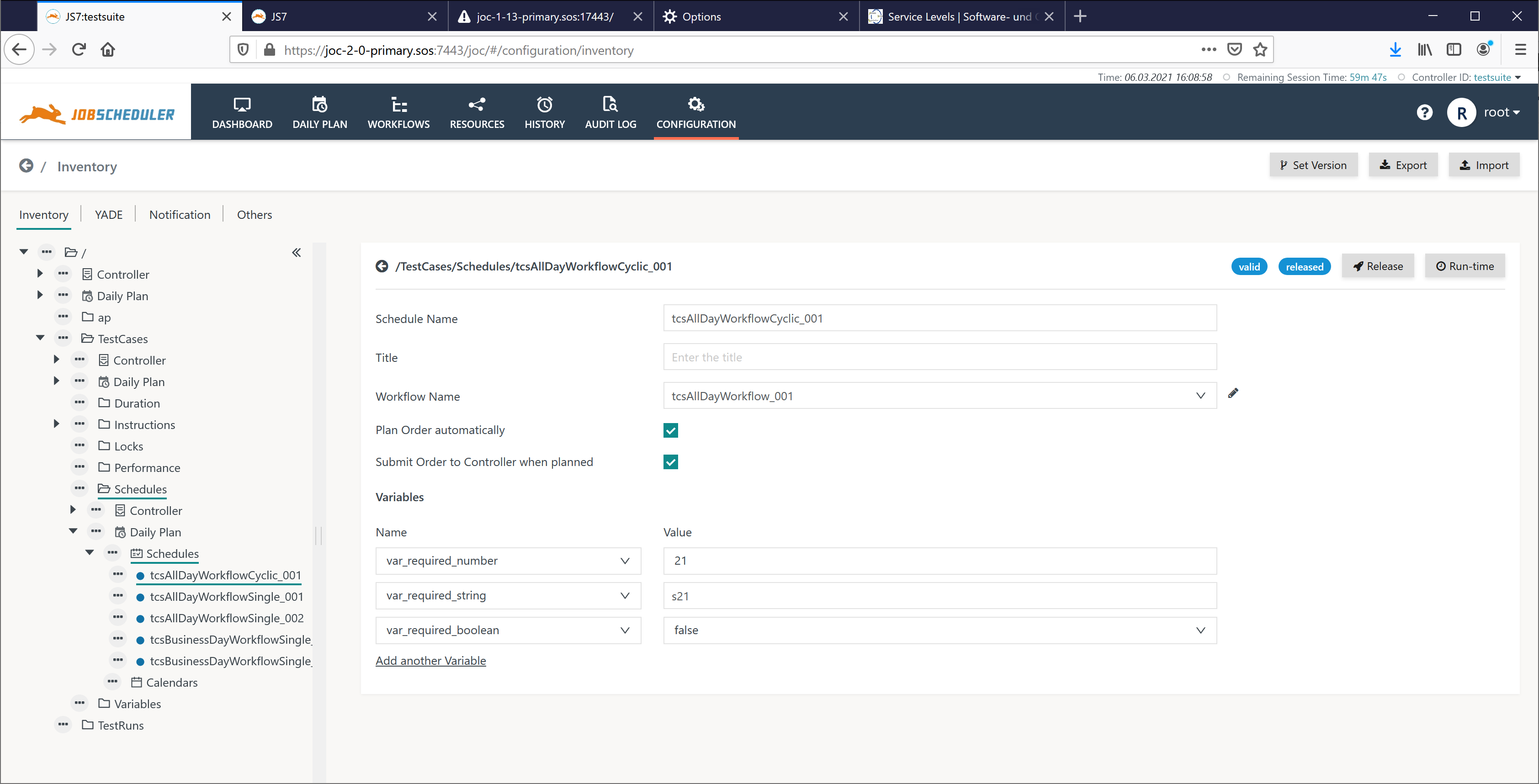 Explanations:
A Schedules is assigned a unique name.
A Schedule includes a reference to a Workflow for which Orders will be created.
A Schedule is assigned a run-time that specifies a JS7 - Calendar and the rules for dates and times when Orders are to be run.
A Schedule can include a number of Variables, see JS7 - Order Variables.
Assign a Run-time to a Schedule
TBD
Assign Variables to a Schedule
Variables are declared with a Workflow. The declaration includes specifying if a Variable is mandatory or can make use of a default value.
The user interface for Schedules requires that any mandatory Variables are assigned a value.
In addition, values for optional Variables can be specified.
Release a Schedule
When a Schedule is edited with the user interface then it is considered a draft.
A draft Schedule can be valid or invalid and is automatically stored, however, it will not be used before it is released.
To release a Schedule the respective user interface operation is required.

The Schedule will be validated for completeness which results in a valid/invalid status.
In case of an invalid Schedule check that all required configuration items such as the Schedule name, Workflow, Run-time and Variables have been assigned.
A valid Schedule is released which makes it usable by the Daily Plan either for manual or automated creation of Orders.
Use of Schedules with the Daily Plan
When configuring a Schedule then two settings can be checked that determine use with the Daily Plan:
Plan Order automatically: this setting activates the Schedule for use with the JS7 - Daily Plan Service. As a result Orders are automatically added with a PLANNED state.
Submit Order to Controller when planned: this setting offers to automatically submit PLANNED Orders to a Controller either when used by the Daily Plan view or by the Daily Plan Service. As a result such orders are assigned a PENDING state.
Use with the Daily Plan View
The view allows manual creation of a daily plan for a given date. 
This functionality includes the application of individual Schedules or all Schedules to generate Orders.
Only valid Schedules that have been released can be used by the Daily Plan.
Use with the Daily Plan Service
The Daily Plan Service makes use of any released Schedules that hold the configuration items:

to plan Orders automatically or
to submit Orders to a Controller when planned.

The Daily Plan Service will plan and submit Orders for the number of days ahead that is specified with the service configuration.