Skip to end of metadata
Go to start of metadata
Diagram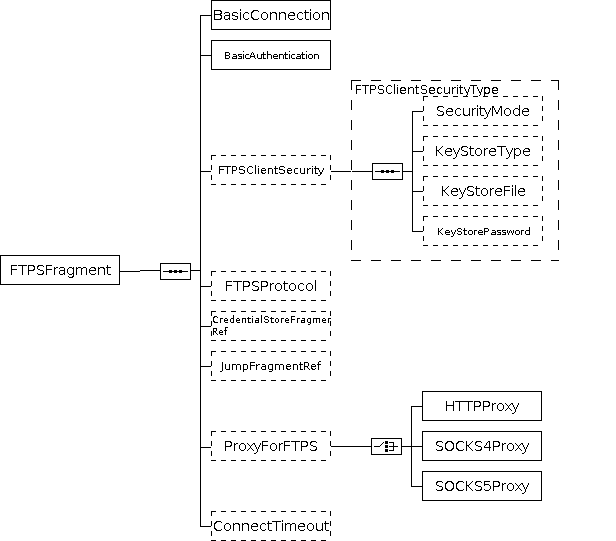 Elements
FTPSFragment
References
Notes
This element includes the parameters for an FTPS file transfer connection including BasicAuthentication and BasicConnection configuration items.
Any number of fragments can be configured and are distinguished by YADE according to their name attribute.
A fragment is referenced by a transfer profile using the value of the FTPSFragmentRef ref attribute.
name

This attribute identifies the current fragment. Any number of fragments can be used and are distinguished by YADE according their name.

A fragment is referenced by a transfer profile using the value of this attribute.

Element
Type
Required
Description
Attribute: name
NMTOKEN
Required

This attribute identifies the current fragment. Any number of fragments can be used and are distinguished by YADE according their name.

A fragment is referenced by a transfer profile using the value of this attribute.

BasicConnection
[BasicConnectionType]
Required

References Notes

A connection specifies parameters for a Hostname and a Port to which a connection is established.

BasicAuthentication
[BasicAuthenticationType]
Required

References Notes

The BasicAuthentication element specifies the credentials for authentication with a server, e.g. using an FTP protocol or a Proxy Protocol. Child elements include:

Account for authentication. For Windows Systems an account could include the domain.
Password for authentication. Passwords are not displayed in the YADE log files.

BasicAuthentication is available for a number of File Transfer Protocols and Proxy Protocols. The drawback with BasicAuthentication is that passwords are stored directly in configuration files. In order to avoid this you could switch to using File Transfer Protocols that allow SSHAuthentication, e.g. SFTP.

FTPSClientSecurity
[FTPSClientSecurityType]
Optional

References Notes

The type of FTPS client security (explicit, implicit).

FTPSClientSecurityType / SecurityMode
string

Whitespace: preserve
Enumeration:
Occurrence: 0..1

Optional

References Notes

This parameter specifies the security mode. Possible values: explicit, implicit

FTPSClientSecurityType / KeyStoreType
string

Whitespace: preserve
Enumeration:

JKS
JCEKS
PKCS12
PKCS11
DKS

Occurrence: 0..1

Optional

References Notes

This parameter specifies the keystore type. Possible values: JKS,JCEKS,PKCS12,PKCS11,DKS

FTPSClientSecurityType / KeyStoreFile
string

Min: 1
Whitespace: preserve
Occurrence: 0..1

Optional

References Notes

This parameter specifies the keystore file.

FTPSClientSecurityType / KeyStorePassword
string

Min: 1
Whitespace: preserve
Occurrence: 0..1

Optional

References Notes

This parameter specifies the password of a keystore.

FTPSProtocol
string

Whitespace: preserve
Enumeration:
Occurrence: 0..1

Optional

References Notes

The FTPS protocol type, e.g. SSL, TLS. It should be considered that depending on the protocol type usually a different Port parameter has to be specified. For SSL/TLS use of port 990 is quite common.

CredentialStoreFragmentRef
Optional

References Notes

This element references the fragment that is used to insert configuration items from a secure store into a file transfer configuration.

Any number of reusable CredentialStoreFragment elements can be configured and are distinguished by YADE based on their name attribute.

The reference to a fragment is based on the value of the ref attribute of this element to the corresponding name attribute of the CredentialStoreFragment element.

Support for a jump host.

Note: Availability starting with YADE-488.

ref

This attribute identifies the fragment that is used for inserting secure configuration items.

JumpFragmentRef
Optional

References Notes

Any number of reusable JumpFragment elements can be configured and are distinguished by YADE based on their name attribute.

This element identifies the JumpFragment that is applied for use of a jump host in a file transfer.

The reference to a fragment is based on the value of the ref attribute of this element to the corresponding name attribute of the JumpFragment element.

ref

This attribute identifies the fragment that is used for a jump host.

ProxyForFTPS
Optional

ProxyForFTPS - will use the HTTP, SOCKS4 or SOCKS5 proxy

HTTPProxy
[AuthenticatedProxyType]
Required

References

Mapping:
Release:

YADE-351 Availability starting with 1.11.

Notes

Proxies can make use of different protocols, a HTTPProxy - as the name suggests - will use the HTTP protocol

HTTP proxies optionally support authentication.

SOCKS4Proxy
[UnauthenticatedProxyType]
Required

References Notes

Proxies can make use of different protocols, a SOCKS4Proxy - as the name suggests - will use the SOCKS4 protocol

SOCKS4 proxies do not support authentication.

SOCKS5Proxy
[AuthenticatedProxyType]
Required

References Notes

Proxies can make use of different protocols, a SOCKS5Proxy - as the name suggests - will use the SOCKS5 protocol

SOCKS5 proxies optionally support authentication.

ConnectTimeout
string

Min: 1
Whitespace: preserve
Occurrence: 0..1

Optional

References Notes

This value is used as the socket timeout parameter, and also as the default connection timeout.

A value of 0 (the default value) indicates no timeout.

Possible values:

<n>s - duration in seconds, e.g.: 30s
<n>m - duration in minutes, e.g.: 1m

Combined values (with blank as separator):