Skip to end of metadata
Go to start of metadata
Scope
The JobScheduler comes with two powerful Web Service interfaces:
The JobScheduler REST Web Service is a replacement for the retired XML Interface

This interface is used by external applications for tasks such as adding orders and retrieving job and order status information.
This API is considered stable along minor releases for use by external applications.

The JOC Cockpit REST Web Service is used by the JOC Cockpit for interaction with a JobScheduler Master:

The web service offers access to the job inventory and the job history as well as individual objects such as jobs, job chains and orders.
This API might change over minor releases with the requirements of future JOC Cockpit development.
Authentication and Authorization

Architecture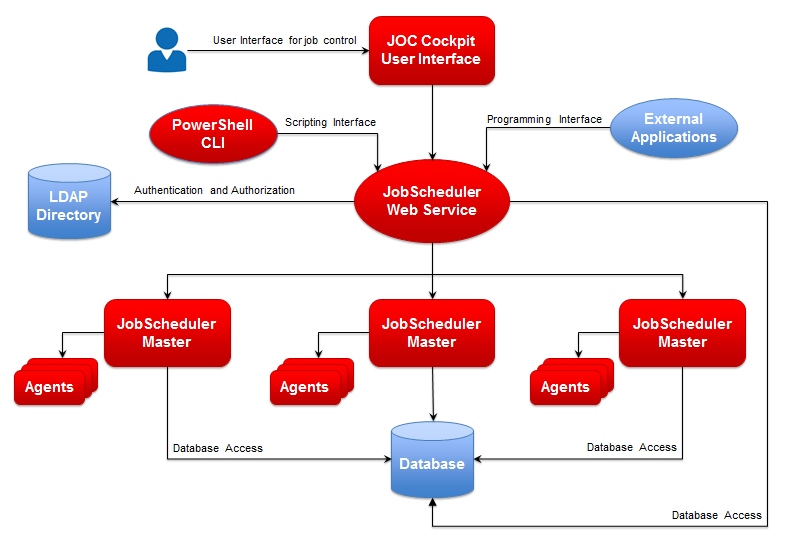 Usage
The REST Web Service is called by using an HTTP client.
The following REST Web Service requests are supported:
Requirements

All REST Web Service requests should use an HTTP POST operation.

Should an idle timeout of 15 minutes between two web service requests be exceeded then the current session is invalidated and a login has to be performed.
Specification
JobScheduler REST Web Service
JOC Cockpit REST Web Service
References
Change Management References
T
Key
Linked Issues
Fix Version/s
Status
P
Summary
Updated
Documentation
JobScheduler REST Web Services

JOC Cockpit REST Web Services