Skip to end of metadata
Go to start of metadata
Introduction
The system architecture describes:

system boundaries
components
platforms
setup scenarios
System Architecture
Basic System Architecture
JS7 makes use of the following components:
The JOC Cockpit, which is used to manage the JS7 - Inventory of scheduling objects, to monitor and control workflow execution and to access the JS7 - History.
The Controller, which is used to orchestrate Agents, to pass orders for workflow execution to Agents and to deploy workflows and the JS7 - Daily Plan to Agents.
Agents, which are dedicated to a Controller and are used to execute workflows and jobs. Agents act autonomously for workflows that execute all included jobs with the same Agent.
All JS7 components can be clustered:
JOC Cockpit and Controller can each implement a passive cluster with an active node and a standby node.
Agents can be operated standalone or as instances of a JS7 - Agent Cluster which implement active-passive or active-active scheduling.


Components
The components interact as described in the slide below:
The JOC Cockpit implements:

the user interface for browser access.
the JS7 - REST Web Service API which:

is connected to a database and which persistently stores the inventory and the history of workflow executions.
performs all operations for managing Controllers.

The Controller connects to Agents:
The Agents:

execute workflows and jobs,
return execution results and log output to the Controller.


Network Connections
Network connections are only established in the directions indicated.
Any connections are unilateral.
Connections can be secured by TLS/SSL certificates.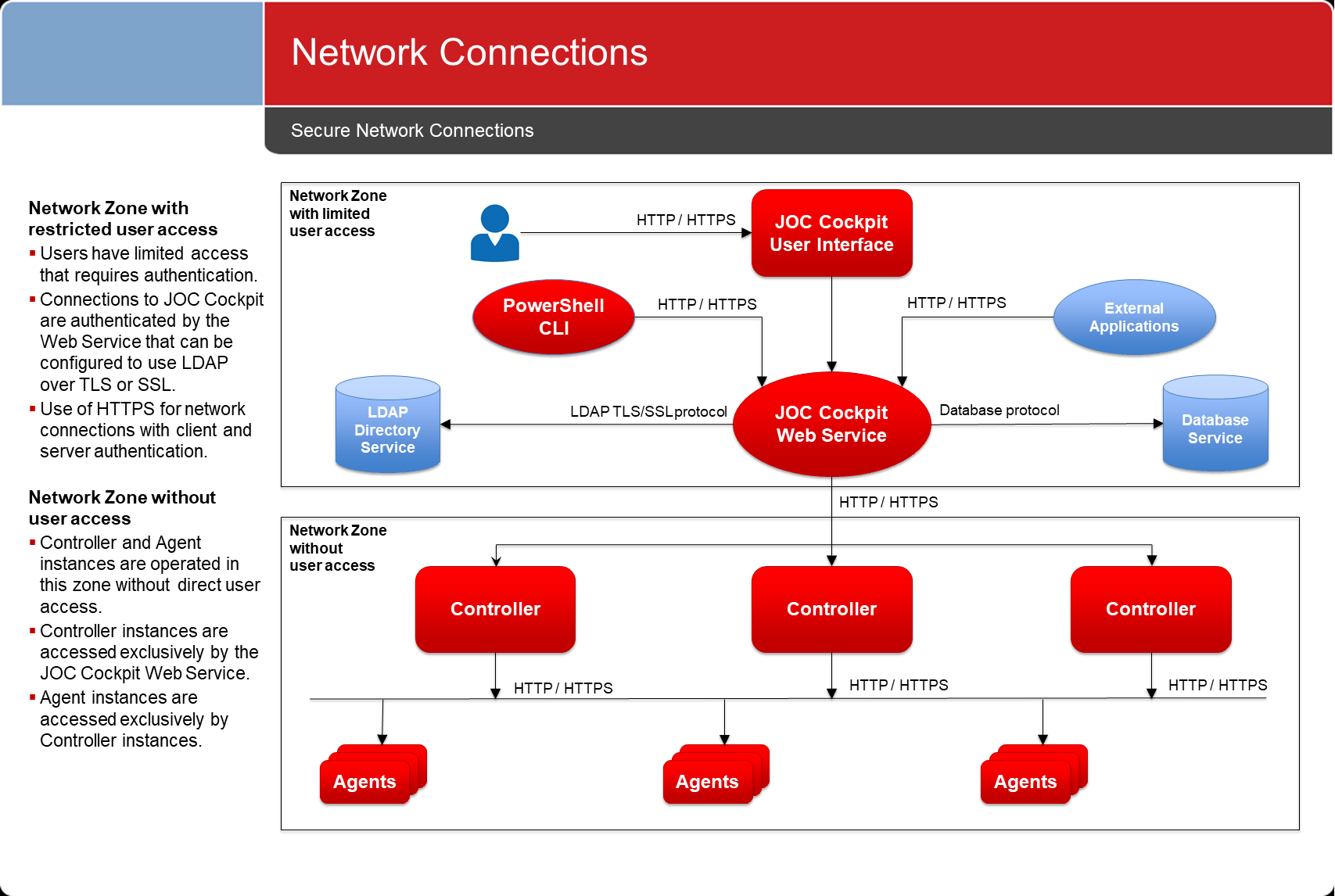 Summary
Components

JOC Cockpit: manages workflow configuration, monitors and controls workflow execution
Controller: orchestrates Agents, manages workflow execution
Agents: execute workflows and return the execution history and log output

Operation

J

OC Cockpit can be operated in the following modes:

as a standalone instance,
as a cluster with one active instance and any number of standby instances.

The Controller can be operated:


as a standalone instance,
as a cluster with one active instance and one standby instance.

Agents can be operated:

as a single instance,
as a passive cluster with one active instance and any number of standby instances,
as an active cluster with any number of active instances.

Network Connections

JOC Cockpit connects to Controller instances and connects to a database
Controllers connect to Agents
Network connections are firewall friendly, a single connection is established between each component

Platforms

JOC Cockpit: Windows, Linux
Controller: Windows, Linux
Agent: any platform that provides a Java Virtual Machine

Setup Scenarios

Standalone Server
High Availability Controller
High Availability Controller and JOC Cockpit
Multi-Client Capability
High Availability Agents