Introduction
JS7 can be operated on the following platforms:
JS7 can be installed on premises at the user's site.

JS7 ships from OCI compatible container images for use with container management platforms such as Docker®, Kubernetes®, OpenShift®.
JS7 is cloud ready for operation with Amazon AWS®, Microsoft Azure® and others.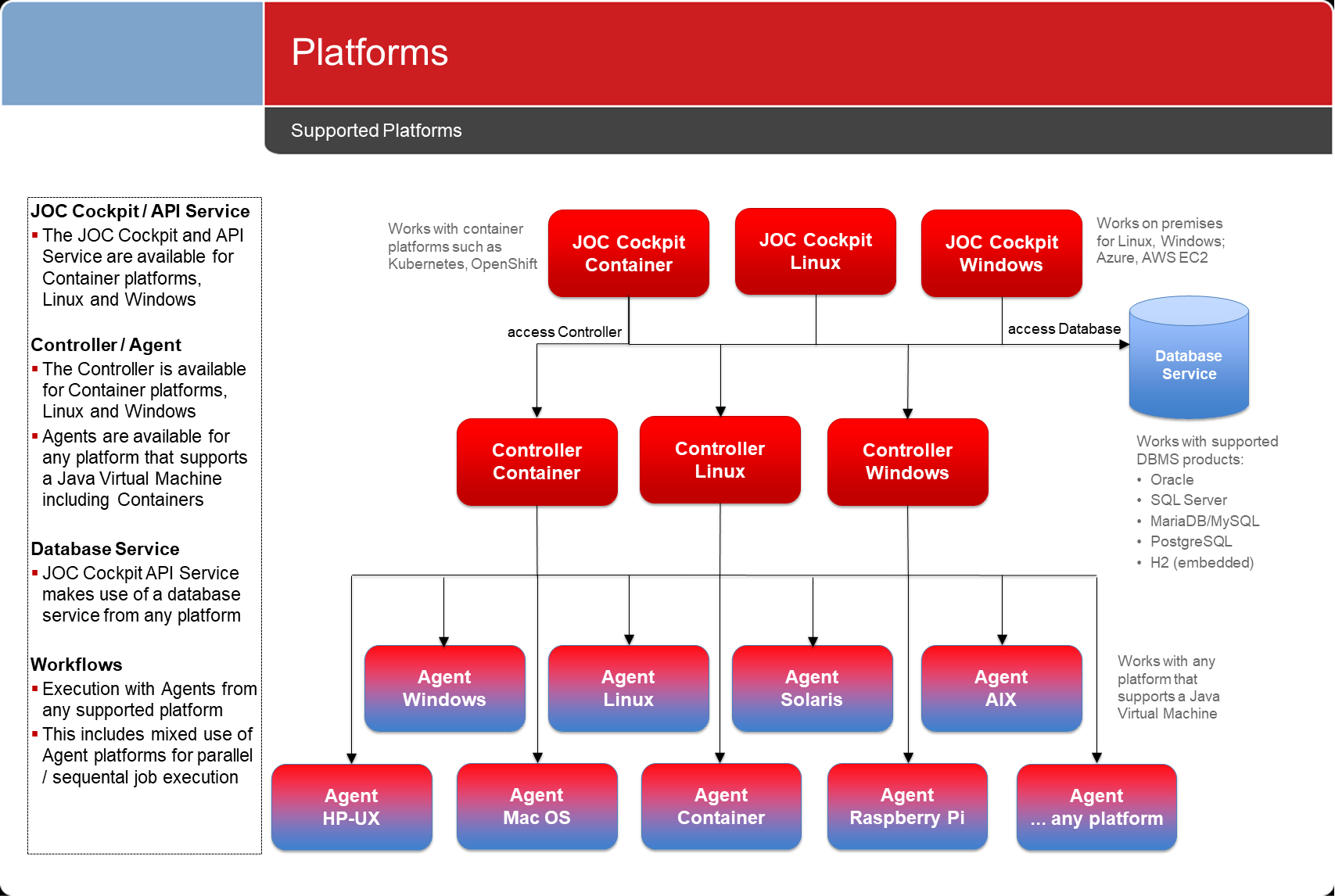 JS7 JobScheduler Platform Availability & Support for Releases starting from 2.0
Starting from release 2.0 the JS7 JobScheduler products are pure Scala/Java and are platform independent. They can be operated on any platform that offers a Java Virtual Machine, see Which Java versions is JobScheduler available for?
JS7

Platform Availability

Platform Support
Open Source GPL License

Platform Support
Commercial License

Product

Operating System

JobScheduler
Build
Setup
Operate
Build
Setup
Operate
Name

Name

Distribution/ Version 3)

Architecture

Architecture
Binaries available
Users may build binaries from source code

Build support
available

Setup available

Installation support available

Product Maintenance available

Binaries available
Users may build binaries from source code

Build support available 4)

Setup available5)

Installation support available

Product Maintenance available

JS7 Agent Controller, 
JOC Cockpit

Windows1)

Windows Server 2008 R2, 2012 R2, 2016, 2019, 2022 Windows 10, 11

32 bit, 64 bit

32 bit, 64 bit
yes
yes
no
yes
no
Public Maintenance for 1 year
yes
yes
yes
yes
yes
LTS Maintenance for 4 years

JS7 Agent Controller, 
JOC Cockpit

Linux1)

RHEL 6, 7, 8, 9
CentOS1) 6, 7, 8, 9
Ubuntu, Debian,
Oracle Linux
Alma Linux, Rocky Linux,
Amazon Linux

32 bit, 64 bit x86_64, arm, ppc64le

32 bit, 64 bit
yes
yes
no
yes
no
Public Maintenance for 1 year
yes
yes
yes
yes
yes
LTS Maintenance for 4 years
JS7 Agent
Mac

 

OS2)
10.9, 11, 12, 13
64 bit
64 bit
yes
yes
no
yes
no
Public Maintenance for 1 year
yes7)
yes
yes
yes
yes
LTS Maintenance for 4 years
JS7 Agent
AIX2)
6, 7
PowerPC
32 bit, 64 bit
yes
yes
no
yes
no
Public Maintenance for 1 year
yes7)
yes
yes
yes
yes
LTS Maintenance for 4 years
JS7 Agent
Solaris2)
9, 10, 11
SPARC,
x86-64
32 bit, 64 bit
yes
yes
no
no
no
Public Maintenance for 1 year
yes7)
yes
yes
yes
yes
LTS Maintenance for 4 years
JS7 Agent, Controller, JOC Cockpit
Container1)
 OCI compatible
64 bit
64 bit
yes
yes
no
yes
no
Public Maintenance for 1 year
yes
yes
yes
yes
yes
LTS Maintenance for 4 years

JS7 Agent Controller, 
JOC Cockpit

Cloud (Amazon EC2, Microsoft Azure)1)

same information applies as listed for respective operating system
same information applies as listed for respective operating system
Terminology
| | |
| --- | --- |
| Product Maintenance | SOS supports the product independently of the platforms that the product is operated for, see Product Maintenance  |
| 1) Supported Platforms | SOS compiles, tests and ships the product for supported platforms. Setup is available. Build support, installation support and product maintenance are provided for customers with commercial licenses. |
| 2) Platforms with Limited Support | Users may JS7 - Build Binaries from the Sources. Build support, installation support and product maintenance are provided for customers with commercial licenses. |
| 3) Distribution/Version | SOS provides support for product defects that occur due to specific operating system distributions as long as the vendor provides maintenance for the respective distribution. |
| 4) Build Support | SOS supports the customer to build binaries from source code. This is available as a Service Request Support Option. |
| 5) Use of Setup from supported platforms | The setup for supported Linux platforms is most probably compatible with other Linux platforms. However, SOS cannot guarantee that this setup will work for all Linux distributions. |
| 6) Availability of binaries for Linux platforms | Binaries for supported Linux platforms are most probably compatible with other Linux platforms. However, SOS does not perform testing for all Linux distributions. SOS will fix issues reported from Linux platforms with limited support that can be reproduced on supported Linux platforms. |
| 7) Availability of binaries for platforms with limited support | Binaries for platforms with limited support are provided for major and minor product releases. For bug-fix releases SOS does not perform testing for such platforms. Customers can build binaries for bug-fix releases from source code. |
Resources