Skip to end of metadata
Go to start of metadata
Dependencies
JobScheduler can handle dependencies at job chain, job and order level:

Pre-processing can be defined at job level to check if required resources are available.

Pre-processing can also be used to set environment variables and to communicate with other JobScheduler instances etc.
Examples would be to check if records in a database were available, if a previous job produced some required output etc.

Post-processing can be used to check if the processing was successful, if required results are produced or to decide on the next processing step,

Examples would be to check if the total records in a database were are more than 1 Million, then to start a database re-index job and else to skip that job. 

JobScheduler provides a JITL Job CheckRunHistory to check if a particular job was executed successfully during a given period, e.g. during the last 24 hours.
This example job chain has a first node as CheckRunHistory to check if JobA1 was successfully executed in the last 24 hours.
In this example the job chain will abort and will end in an error state, however, as per requirement more complex scenarios can be configured, e.g. 

wait for 2 hours, 
send an alert or
start another job.

By using JobScheduler configuration and its internal API more possible dependencies can be checked.
See JITL job documentation for more information JobSchedulerCheckRunHistory.xml.
Diagram of Job Chain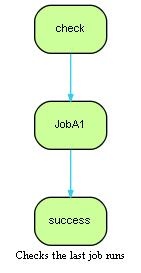 Job CheckRunHistory
<?xml version="1.0" encoding="ISO-8859-1"?>
<job  title="Checks the last job run" order="yes">
    <params >
        <param  name="JobName" value="Demo/Scenario03/JobA1"/>
        <param  name="start_time" value="-1"/>
        <param  name="message" value="The Job 1. ${JOB_NAME}   2. [JOB_NAME] was not running successfully today until 15:00h "/>
        <param  name="query" value="isCompletedBefore "/>
    </params>

    <script  language="java" java_class="sos.scheduler.CheckRunHistory.JobSchedulerCheckRunHistoryJSAdapterClass"/>

    <run_time />
</job>